WordPress Websites – Difference Between Posts and Pages
Alright, welcome back WordPress beginner.  in this video were going to talk about posts and pages and the differences of. So let's go and look at our site, you can see we've got our nice site there. Pages are more static than posts so when we add a page it'll appear in the main menu bar that you're accustomed to seeing on websites. So if we go to a page and we say add new; I'm going to go into the methodology for which how I do this later. We're going to call this page 1 and stuff goes here; I'm gonna copy that and I'm gonna publish it. I am going to add another page, I'm going to call this page page 2, alright and publish it.
So, if you visit the site you notice nothing is different and that's because when we add a page we also must tell the menu that the pages are there. Let's go back to the dashboard; this is something you only get to do to 4or 5 times for your pages. So I'm gonna come down to appearance and I'm going to go to menus. And I'm going to give the menu a name usually I just call mine something silly like I don't know main menu and I'm gonna create the menu I'm getting them menu a name usually just call myself and silly like main menu.
Add Pages To the WordPress Menu
Okay so now we want to tell the menu, main menu that we want to add a couple pages to it. So I'm just going to select this and I'm going to say add to menu. And here's the part that I always forget and that is to come over here to the blue button and save the menu. Now check this out, we have to select primary menu or it won't show and we are going to save that again. And I'm gonna come up here and I'm going to visit site and as you can see now we've got page 1 and page 2 and of course if we add a page 3, page 4 it'll be all across. Of course these pages are accessible from every page on website. So your pages are more static, you're going to probably  create a about us, a contact us, maybe a page with products, you might have a block page things, like that maybe 4, 5 pages that go across the top that are going to be static throughout the entire site.
Adding a WordPress Post
So now let's go and add a post. Posts are, they're like articles and when you write a post and you set it up- the way I set up all my sites at the most recent post appears across the top. When I write the next that first post gets bumped down 1 and the number 2 post is at the top and so on and so forth up to five or six posts when the original post drops off the list and is then accessible through the archive. So let's go post and add new, so this time I'm going to call this post 1 and then publish it. And without looking let's go ahead and go edit post, add new and publish. Okay so if we go back to visit site, now you see the difference; post 2, there is post 1.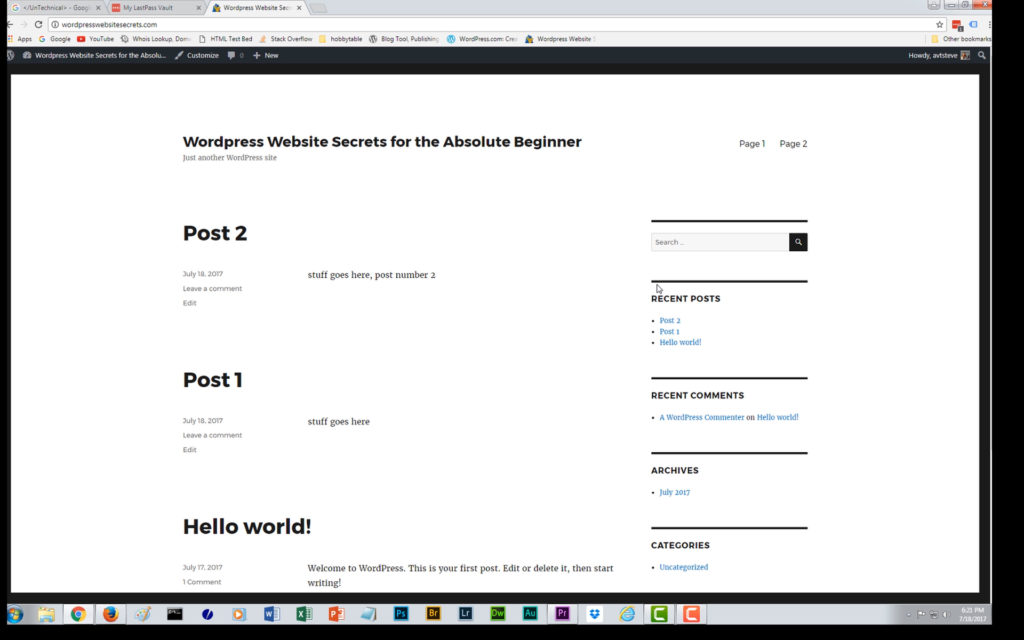 The WordPress Blogroll
Now the theme itself shipped with Hello World so it got bumped own to the third one. So this is what you call essentially your blog roll. Remember in the other video I chose to select a more dynamic site so that my posts appear on the front page and as I write new post they get pushed down. So I can go to post 2 and I can read it but I still have access to my pages here; right? Here is the section called recent posts this is something that we can change, all of this information here is stuff that we are going to change later but I always wanted to give you the overall feel for the difference between a post and a page. Pages are static they'll always remain at the top and poster dynamic they will be changed as you add new post. So if we go to post 1 we just see the contact for post 1, people can comment, there's previous, here is the next. All of this is changeable but this is just how it is and the default.
Thanks for watching the video, in the next video we are going to take a closer look at actually entering info in the posts and pages and how that works. So thanks for watching, see you in the next video.
Please follow and like us: