What camera or camcorder should I buy for my Real Estate Videos?.
This is the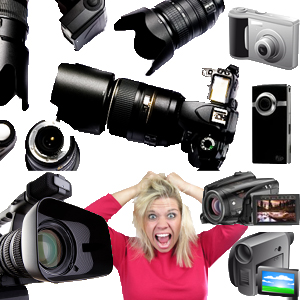 question I get asked more than any other when I teach my "Why Video For Real Estate" Class.  And here's the answer:  "The one that best fits your budget, and your needs"
.
A cop out?  Nope – it's the truth.  You can't have someone tell you what camera to buy – that's a cop out!  A cop out from doing the due diligence necessary to make an informed decision.
.
But I keep getting asked the question, so here are some things to consider as you select a new camcorder:
.
I don't make specific recommendations, because different things are important to different people.  There are many things to consider when buying a camcorder:  Tape vs hard drive vs memory stick, HD vs SD, battery life, zoom ratio, CCD vs CMOS sensor, audio capabilities.  Lots of choices that really rely on personal preference..
My consumer camera records to HDV tape (it's a Canon HV40) because this is the exact same medium is my larger pro camera (also a Canon).  When I take both cameras on a shoot, I can use the same tapes, they are both HDV, and post production is easier..
Here's what I will say – figure out what is important to you as far as recording medium (i.e. hard drive, memory stick, or good ole fashion tape), HD vs SD, battery life, zoom ratio, type of sensor, and the like.  Then go out and buy a Canon, Sony, or a Panasonic.  My opinion is that you can't go wrong with any of these 3 manufacturers. I use all Canon equipment because I think the lens is the most important thing, and no one knows lenses like Canon (again – opinion)..
Here's an important tip most people overlook – If you decide to go HD, you need to remember that HD processing requires a very beefy computer.  You might spend $500 on an HD camera and later realize you need a $2000 plus computer to process that HD footage..
Remember that you can still buy an HD camera and down convert to SD for processing.  Honestly, I'm not sure if all HD camcorders do this – one more question to ask once you narrow your search down to your final 3-5..
Most important accessories for shooting real estate listings – get a wide angle lens adaptor, and a tripod.  After you get good at shooting video and are ready for the next level, consider a camera stabilizer, but be aware that the cost and learning curve for stabilizers is very steep..
Other things to consider – If you insist on doing your audio on location, make sure the camera you select has a mic jack for an exterior microphone.  Internal camcorder mics suck and if you want your final production to sound good, you should not use the existing internal camera mic.  My solution for this is to do all your audio in post production but I preach about that in this blog post.
So I didn't give you the exact answer – but take 1 hour researching and I bet you will make a much better choice.  Here's a head start – my favorite site for reviewing electronics is cnet.com.  Go check out http://reviews.cnet.com/camcorders/ It will be time well spent..
Good luck!.
—– ©2010 – AmazingVideoTours.com – All Rights Reserved. Amazing Video Tours is Charlotte's Premier Real Estate Video Provider for Realtors, and other individuals with property to sell, lease, or rent. A departure from the old fashion 360 Virtual Tour, Amazing Video Tours takes online property marketing to the next level.
Please follow and like us: