One Click Install WordPress Website Design for the Absolute Beginner 
Find the one click setup on your host
So I'm at the hostgator dashboard and it does not matter whether you decided to go with hostgator or godaddy or bluehost. They all have similar dashboards and you're going to see an opportunity somewhere to get started with WordPress and it really couldn't be easier. So the way I'm going to handle this is I am going to do the one click easy method and in a subsequent video I am going to show you how to set it up the hard way, just  for those of you who are interested.  I don't think there is anything wrong with doing it this way; I haven't done it this way in years. So let's go ahead and dive in and see how hard it is to install WordPress with this little button here. I just clicked it; talk to a WordPress expert, you don't need to do that, you don't need to do that we're gonna….you're gonna do this, you can do this.
Follow the steps to set up your WordPress Website
So you registered a domain so go ahead and select the domain that you registered and you don't have to do anything here. So just select next, oh look how easy this is. Whatever you do, do not use the word admin here, it's a severe security risk don't use administrator, don't use any variation of admin. And following that obviously your first and last name and whatever email that you're gonna be receiving emails at in the time being. This section here let a pro do it for you, don't we're going to do it ourselves and we are going to save all this money. So just fill in these 5 fields, click install and I'll see you on the other side. OK one thing I forgot to mention was make sure you check the box to automatically create a new database for this installation and the last thing that you want to do is make sure that you click the box for the terms of service agreement or you will not get the install button lit up. All right now ready to rock and it's gonna try to sell a whole bunch more stuff. Like this overall web site progress 60%; installation complete.
Check your WordPress Website and login for the first time
OK so it's been a few minutes since I pressed the one button WordPress create button and my screen, my screen actually timed out. So what I'm going to do is…. I'm pretty sure it's set up right because I got an e-mail that said its set up right. So I'm going to go ahead log out of the customer portal and I'm just going to try to go to my domain name and see what happens. It says website coming soon. So let's go ahead and click on admin log in. You should have received your log in credentials in an email from the system. So I'm going to go ahead and log in right now. And believe it or not we're already done with the whole set up process. It's that easy! So what kind of site can we help you set up? Well how about a business site. And there's my site title which is important for SEO which is search engine optimization and my site description. Alright I'm just going to put some stuff in there. OK so if you've ever been intimidated about the process of setting up a website you just can't get any easier in this.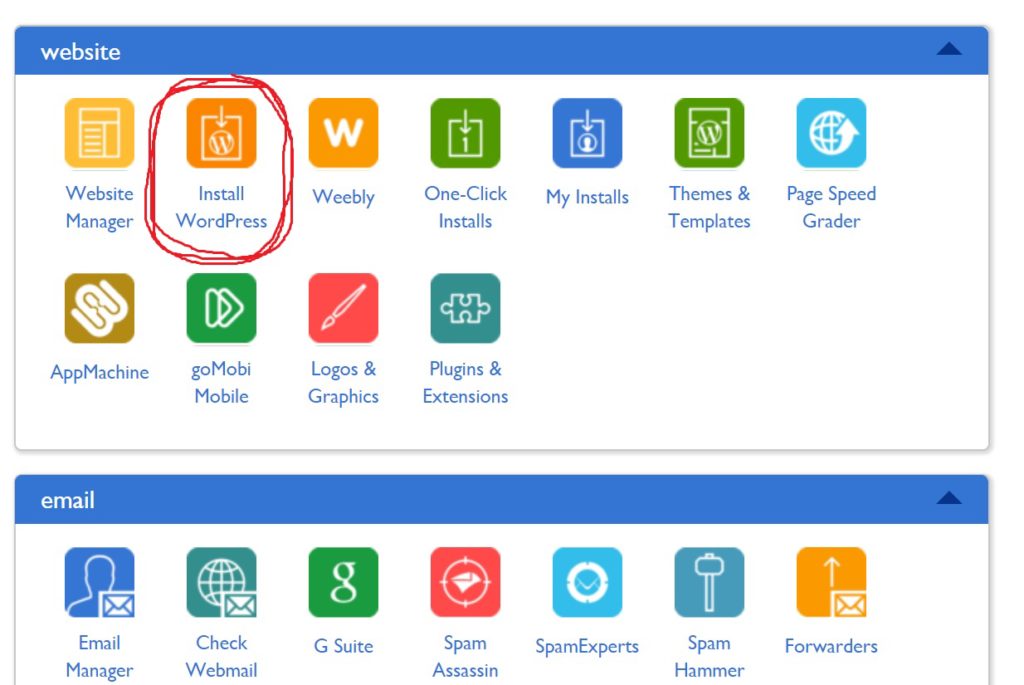 Alright so anyhow if you're updating your Web site on a regular basis, in other words blogging or writing articles on a regular basis and the contents are going to be dynamic or changing on a regular basis, you're going to want to go with more recent news or updates. If you want to go with a more old fashioned static front page on your Web site, you want to go the static welcome page where you have to come up with a little bit of content, some pictures and you can pretty much not worry about it for a while. But that's not recommended for search engine optimization reasons, but we'll get to that in a later video. I'm going to go ahead and click this button here because I'm going to be updating a lot; build a starter contact us page?  Yeah why not what the heck, I'm going to decide against this right here I'm not going to connect to wordpress.com. And let's go ahead and take a look at our site as it stands right now and the way we're going to do that is we're going to come way up here into the corner with our mouse and we're going to pull down and we're going to click right here and look at that. We already have a website, fairly done; it's that easy.
Now we got a lot of steps to go: terms of adding content and everything like that. But if you are ever afraid to set up your own website we're done. Now I said earlier that WordPress all by itself is like a vanilla scoop of ice cream. In my opinion I like vanilla ice cream so it can be chocolate ice cream but nonetheless it's just one scoop of ice cream. It's good but we can make a great by adding whipped cream and hot chocolate, nuts and cherry and all the other things that most people like. And if you don't like those things, if you don't want a cherry you don't have to have a cherry if you don't like whipped cream you don't have to have whipped cream.
Adding WordPress Plugins
The best thing about WordPress is that now we're going to add functionality which is called plugins based on what we need. Maybe we need a shopping cart maybe we don't.; maybe we want social media interaction maybe we don't, the good news is that there are thousands and thousands of programs from which to choose from and we can pick the ones that we want and disregard the ones that we don't want.
Adding a WordPress Theme
The other thing we can do with this WordPress site is put a new theme on it. A theme is a look and feel; I often use the analogy of a woman's dress. Women's dresses come in all sorts of different: shapes, sizes fabrics, colors; it's infinite the number of dresses that a woman can buy. That's the same thing with WordPress themes, there's an infinite number, well maybe not an infinite number but there's a… there are thousands upon tens of thousands of themes and we're going to get into themes and look and feel in a later video.
But for now we're set up, we're there; it's just a matter of adding content. So I'm going to cut it right here and we'll get into more good stuff in the next video.
Please follow and like us: